Real-time Chat That Scales
Our infrastructure is built to solve your problems and create seamless experiences for your app.
Not Just Chat SDKs & Messaging APIs
We Have Got You Everything.
Say goodbye to regular chat APIs & instant messaging SDKs. Let's experience CONTUS MirrorFly as an outstanding real time messaging solution. The powerful communication solution built by a team of dedicated In-house developers with highly flexible hosting possibilities, that adds an extra mileage to build your chat app.
High-Performance Backend Infrastructure
Low Latency
Best Cloud Infrastructure
Unlimited Conversations
In-house Development Team
Pre-built UI Kit
DevOps Grounded Development
Global Scalability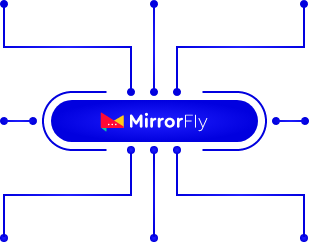 Global
Scalability
High-Performance
Backend Infrastructure
Low
Latency
Best Cloud
Infrastructure
Unlimited
Conversations
In-house
Development Team
Pre-built
UIKit
DevOps Grounded
Development
Pre-equipped Infrastructure of Chat SDKs & APIs
Driving From Roadmap, Deployment, And Battle-Test To Build Future-Centric Chat Application
UI Kit for Any Apps

Enables an easy and fast integration of standard chat features into new or existing client apps. Overall theme and individual components, such as colors and fonts, can be fully customized.

Flexible Deployment

Igniting the overall development of chat applications whether the choice is server hosting or cloud deployment, CONTUS MirrorFly delivers utmost computing adjustments to your demands with the ever best chat API.

Backend Infrastructure

CONTUS MirrorFly's team of experts understands how to utilize the ideal database, technology, server, and overall infrastructure to bring out the best chat app that blends with the real time messaging SDK & API features.

End-to-end Support

CONTUS MirrorFly ensures to provide pre and post-launch support for your chat platform development. Get your chat application up running in the market quicker & after-market functional service with the help of our support team.

Security & Compliance

Ensured with multiple layers of shieldings (end-to-end encryption, AES & 256-bit SSL) to proactively safeguard every conversation taking place over an online chat platform.

Data Integrity

CONTUS Mirrorfly ensures the validity, consistency and trustworthiness of your entire data life-cycle under a robust shield and records the exact data for later retrieval.
Features That Propels the Performance of Your Instant Messaging API
Delivering Access To The Real Time Communication Features That Are Reconcilable Across Android, IOS & Web
Make Communications Easier
in Real-time
Peer-to-Peer Communications
Create conversation that ranges from private 1:1 to group chat in the real time chat for web and mobile app around any time to bring user interactions at the core.

Reach Groups of People at Once
Create up to an infinite number of groups on Android, iOS & Web to make discussion, announcement and conversations to enlighten the group members via online chat platforms.
Respond to Each Message Just In a Tap
Provide handy response text such as messages with predefined buttons based on customer queries. Create, modify and customize the text box with including a button to order, inquiry and call to connect with the support team.
Smart Replies from Any Devices
Respond to teammates quickly with various numbers of suggested text or a customized message. Allow customers to send smart replies through suggestions based on buyer moves and increase customer time efficiency.
Real-time Language Translation
Bringing the native language chat experience through real-time multilingual setup which translates messages up to 100+ languages that are sent and received within the chat screen.
Proactive Chat
Triggering the responsiveness between two end users in order to initiate the conversation and respond to the messages in real time chat solution through ideal features such as last seen, read receipts and typing Indicators.
Explore real time communication
Collaboration from Anywhere & Any Device
Secure File Transfer
Share any number of file formats & sizes such as audio, video, images, and prospects on a real time basis to maximize the productivity and user engagement.
Screen Sharing In a Click
Share and manage any screen remotely on other devices effortlessly. Display your entire chat screen, channel and group discussions to a bulk of audience to increase collaboration and organizations' productivity.
Digital Whiteboards
Display your ideas visually with other users across devices in real time messaging solutions with CONTUS MirrorFly chat sdk. Allow users to edit, share and engage with real time collaborative mediums to improve productivity and engagement among several teams.
Unlimited Message Broadcasting
Deliver impactful real-time information, alerts & updates to a vast group of users across the chat rooms, groups within a click through one-to-many broadcast option.
SIP & VoIP Calling
An impeccable replacement to physical telephone systems where businesses and individuals can make unlimited voice calling to carrier networks (Telephone device) through internet protocol to enhance mobility and cut calling costs.
Explore collaboration
Progressive Real-time Chat Analytics for Super Admin
Track, Analyze, and monitor the real-time chat report & connect your business and customers on a deeper level.
Browser Based Metrics

Ensures you to understand the complete user journey by tracking users behaviour across a variety of platforms. This lets you discover a consistent and unified user experience for your app.

User Journey Report

Support you to trace and analyse the number of active online users, offline users, available groups, etc., on your app during a specific period to improve the app's retention rate.

User Location Database

Get you a detailed insight report of the cities and countries where your users come from, this can help you to focus on the other potential locations to improve your app's reach.

User Engagement Metrical

Allows you to measure a variety of activities like number of downloads, new users enrollment, shares, clicks, session length, etc., to measure your app's success rate.

Browsers & OS Insights

Permits you to generate a detailed report at browser level like chrome, mozilla, etc., & OS level like Linux, iOS, etc., to know which browser/OS is used by the users to operate the app.

Users Demographic Metrics

Provides detailed analytic report of user engagement at demographic level that includes data like country, age, gender, and interest categories as a personalized solution.
Your Security is Our Top Most Priority
Build a chat app that fulfill your business needs using the most authentic security protocols and experience next level of secure conversation.
Explore security & compliance

AES Encryption
Building a web chat application also calls for security and safety of data, and our Advanced Encryption Standard security protocol makes it nearly impossible to hack your data.

End-to-End Endcryption
Our end-to-end encryption approach makes user communication extremely secure in a way that only the players/ users engaged in the conversation can read the messages.

Application Security
Ensure secure access to the application via HTTPS servers and industry standard encryptions. All measures are taken to fix and prevent security vulnerabilities like XSS or SQL injection.

Protocol
The personal information of your users is kept extremely safe with the presence of the non-federated signal protocol. Security keys are refreshed at intervals to avoid single-point failure.

Attack Prevention
Security assessments are performed at every stage of the application development and firewalls are kept in place to fix and block brute force third-party attacks.

Protection
Improve your user's trust with our chat APIs and SDKs that are built with plug-ins that block several spams like forum, board and blog from attacking the application.
Drive High Grade Chat Possibilities Across Sectors
Powerful Messaging APIs & SDKs That Empowers A Wide Range Of Conversational Possibilities
Healthcare
E-Commerce
Broadcasting & Streaming
Customer
Support
Team Chat
Social Chat
Personal Chat
Healthcare
E-Commerce
Broadcasting & Streaming
Customer Support
Team Chat
Social Chat
Personal Chat
What's the Maximum Users' Limit in a Single Chat Room?
Can I Migrate Off from My Existing Data to MirrorFly Without Any Loss of Data?
Does MirrorFly have Broadcasting of Messages to Thousands of Users At a Time?
What's the difference between channels and groups in MirrorFly chat Solution?
Ready to Get Started with Our
FREE Chat APIs?
Create immersive chat, video & voice calling experiences that skyrocket engagement and increase your app stickiness with our APIs & SDKs.
Dedicated Cloud Server
API Response 3 Seconds
99.999% Uptime SLA
Try it free
*No Credit Card Required
Contact Sales