HIPAA Compliant Chat App - A New Standard in Healthcare Communication
Build a secure patient-centered communication infrastructure experience and have a track over every provided treatment.
HIPAA Compliant Chat

Confirms patient's data protection, remote care options, streamlining diagnosis and treatment, reducing response time, notifications, etc.

PHI Data Encryption

CONTUS MirrorFly servers encrypt the data exchanged through TLS/SSL with authentication devices at both client and server-side.

Secure Infrastructure

Ensures high-end security of stored data on our distributed infrastructure using AES256, 256-bit SSL with dedicated server instances.
Track Entire Patient Journey with Telehealth App
HIPAA compliant chat infrastructure empowers the patients to interact with doctors by building in-app chat, video and voice, much faster and easier.
Improved Quality Care at the Patient's Doorstep!
Connect patient-doctor through HIPAA compliant chat app and monitor patient's data, reducing overhead cost, no-shows, and speeds up consultations, enhancing patient's experience at cost-effective treatment.
You can also creates optimum protection for patients by allowing them to experience a more personal level of interaction with their doctors with no compromise in security and care.
Real time Features for Better Doctor-patient Interaction!
Acquire a personalized post-care experience to the patient by integrating our HIPAA compliance chat APIs and SDKs.
Feature-rich Video Chat
Experience
Our pre-packed APIs and SDKs get you a high performing video call experience despite you're on Wi-Fi or mobile network, without any call drop-off or video call degradation. With our intelligent network optimization and better quality conversations you can engage a global audience instantly.
Explore More about Video API

Build the Voice Experience
You Need
Our real time hassle-free solution gets you the freedom to reach people around the world through VoIP and SIP Calling. Engineered on WebRTC, We built in powerful functionalities and audio calling quality optimisation for you to experience outstanding crystal clear conversation.
Explore More About Voice API

Deliver the Ultimate In-app
Chat Experience
Packed with high-performance and security, our easy to accomplish APIs and SDKs allows you to experience live video chat and messaging functions on a wide global scale with the world-class features, functionalities, UI/UX, hosting services - across any iOS, Android, and web app.
Explore More About Chat API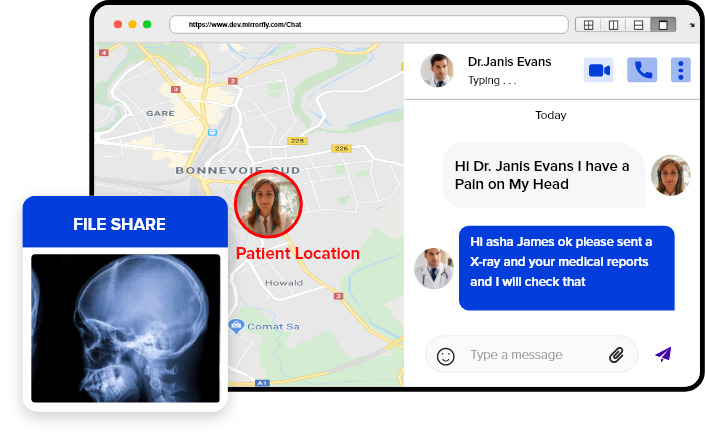 Reliable Video APIs to Build a Modern Video Chat App
Integrate resilient video calling capabilities with HIPAA compliance into any 3rd party device and scale patient-doctor connection in real time.
Live Streaming
Live Streaming
Lets you connect and interact online with a large scale of audience instantly anywhere.
Active Talker
Active Talker
Makes the app user to send the video streams of the recent speakers to display window.
Screen Sharing
Screen Sharing
Supports the user to share their screen with multiple participants simultaneously.
Audio Detection
Audio Detection
Enables the user to recognize sound events with particular temporal start and end time.
Individual Stream Pinning
Individual Stream Pinning
Provides host to disable active speakers view on the window, allowing to view specific speaker.
Ready to use UI Modules

Ready to use UI Modules
UI kit & UI components are fully customizable for entire UI library source code with modify option.
Dual Monitor Screen Sharing
Dual Monitor Screen Sharing
Gets you share the video layouts and content of two different monitor in a single window.
Group Video Call
Group Video Call
Connect the user with multiple participants instantly around the world by creating several groups.
Empower Telehealth Communication with a Powerful Infrastructure
Drive a large user engagement, retention, and patient satisfaction with the most highlighted features of our In-app chat APIs & SDKs.
Fully Customized

CONTUS MirrorFly chat api allows you to build your own customizable chat app with HIPAA compatibility for iOS, Android & web app as per your business needs which you can integrate into any 3rd party applications.

Highly Scalable Video Chat

Take your user engagement to the next level, connect with over 1 billion + patients and doctors globally in a single video chat solution across any device and experience video calling that excites.

White Label Video Solution

Have full flexibility to white label CONTUS MirrorFly platform with your brand logo, color, and custom features, with variety in hosting On cloud or On Premises options that meets your business needs.
Enterprise-grade Optimal Security with HIPAA Compliance
Build HIPAA compliant workflow with high-end security of TLS and AES256 encryption to protect communication among servers. Also, ensure protection towards your infrastructure with our no inbound open ports by supporting the compliance for regulatory environments including HIPAA, GDPR, SOC2 Type 2, and CCPA.
Try MirrorFly Free for 21 Days!
It's easy, free, and you can start integrating on your app immediately...
Try for free
Let's Talk To Sales Team
We'd love to answer your questions. Tell us your needs, and we'll contact you shortly.
Talk to Sales