A Complete Chat Solution For Every Communication Need
Package of hallmarks to redefine your messaging platform into next-level of communication tool
Communicate Globally

Drive your chat application globally to connect millions of users at anytime and from any device. MirrorFly's infrastructure has the potential to relay messages in billions with servers across the world.

End-to-end Encryption

The entire conversation taking place from and to MirrorFly server is completely encrypted against any third-party access. With E2EE, the messages transferred is secure by preventing hackers or even MirrorFly from reading it.

Design & Development Team

A bunch of proficient design & dev team at your disposal to develop a top-notch messaging platform with intuitive user experience. Apart from design, host the application on your preference whether it's cloud or on-premises.

Multiple Industries

No matter whatever the purpose and industry you want to embed chat, MirrorFly solution supports all forms of industrial-communication to streamline, enhance the communication chain for better productivity.

SDKs & APIs

Whether you want to integrate chat into your existing application or build a standalone app from scratch with top-notch features, everything is possible with MirrorFly's APIs & SDKs.

Pre built UI Kit & Design Modules

Get access to our ready-to-use UI modules with pre-built UI kit and components like color, theme, font size, etc., and build your chat app with the most user-friendly interface.

Real-time Communication

Whatever the communication possibility, MirrorFly chat solution comes with message, audio & video calling, and video conferencing to make every conversation in real-time from any device, anytime.

Quick Migration

MirrorFly's full-fledged supportive guided documentation with simple tutorial lets you transfer all your existing conversation and data from your existing system to our new system easily.
All Component for Absolute Messaging Experience in One Package
An end-to-end comparison on features to discover MirrorFly as the Best Alternative to Layer
| | | |
| --- | --- | --- |
| All Essential Messaging Features | | |
| Voice Calling | | |
| Voice Calling | | |
| Live Broadcasting | | |
| Conferencing | | |
| Screen Sharing | | |
| SIP Calling | | |
| VOIP Enabled | | |
| Create Multi-Channels | | |
| Push Notification | | |
| Cross Platform | | |
| Location Sharing | | |
| Low Latency | | |
| Synchronisation | | |
| Real time Language Translation | | |
Values You Get By Shifting Off From Layer To MirrorFly
Continue Using the Same Platform, but with a new look!

Run your overall operation in the same application with upgrades in features, design, technology and performance.

Maximize the User Count with Unlimited Scalability

Whatever the user limit you had with Layer platform, MirrorFly never had any issue with user count. (Connect users globally 1+ million users)

Stay Free from Traditional Subscription-based Models

No more investment for any specific feature, functionality or user count. Get unlimited on everything right from making a video call to voice call at a one-time payment.
Solid Reasons Why
SaaS (Layer)
Over

SaaP (MirrorFly)

is More Preferable?
Just beyond the conventional chat development more likely as the Saas services by Layer chat, MirrorFly stands out as a single solution that empowers to customize your own platform with help of 300+ in-house team, multiple chat functionalities, Intuitive UX/UI designs, versatile hostings upgradable features, native SDKs & APIs and so on.

Migrating Off from layer or building the chat solution from scratch, everything is possible with MirrorFly.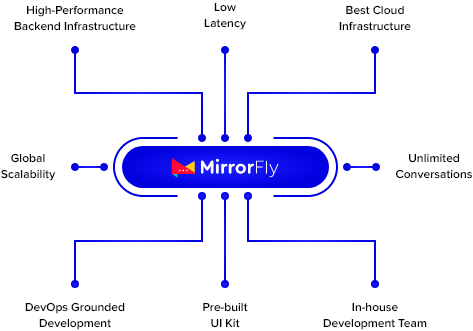 Global
Scalability
High-Performance
Backend Infrastructure
Low
Latency
Best Cloud
Infrastructure
Unlimited
Conversations
In-house
Development Team
Pre-built
UIKit
DevOps Grounded
Development
Quick Docs
Handy guide with base codes, and incomparable lesson over Chat APIs & SDKs
Demo App
Ground level references to implement, clone and modify, for any use case
Exclusive MirrorFly UIKit
Awesome UX/UI design, exclusive features moves along with all modes for iOS, Android, and web apps.
We Handle the Complete Layer Migration for You
Get migrate to CONTUS MirrorFly! Experience hassle free with No downtime!
Integrate
Make use of UI kit, get integrated into the world of real time communication
Migrate
Get a complete guidance to migrate from your existing provider
Go Live!
Switch to the best and go live with CONTUS MirrorFly
Explore Our Free SDKs For 21 Days!
Integrate Our Video, Voice & Chat SDKs into any app in < 30 mins
Try it free
Get Started With Our Self-hosted Video, Voice & Chat Solution!
Build your own customizable apps with 150+ features for a one-time license cost!
Contact Sales